T he Placement Cell of H.R. College is a Student Managed professional body, which is for the students, by the students and of the students. It acts as a liaison between the corporate sector and the young, aspirational students of our college. The Placement Cell strives to groom students for the industry while assisting them in getting varied and suitable job opportunities. The opportunities offered as quantitative as well as qualitative, in order to correctly fit the skills of the students.
The Placement Cell believes in a collaborative approach and therefore does not restrict the corporate engagement to only the third year, ready to graduate students. As a student body, we acknowledge the need for the 'trial and error' method for our students from the very first year. Conducting rigorous internship drives, irrespective of any factors, has been one of our strongest initiatives to give our students exactly what is required in their day and age.
Having modified the committee to the unfortunately challenging circumstances, the Placement Cell has very articulately provided internship opportunities virtually.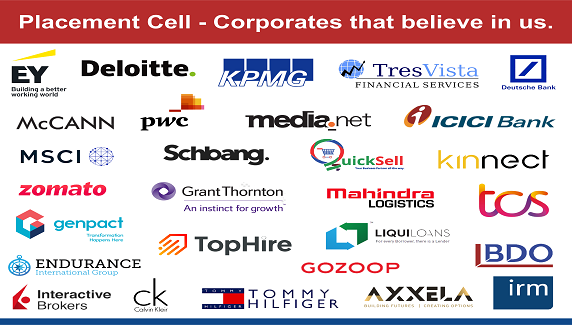 CAREER COUNSELLING SESSION
June 9, 2021
CA Ryan Fernandes, head, Strategic Investments function at Pidilite Industries Ltd. And associated with the ICAI, Bombay Chartered Accountants Society, and Chamber of Tax consultants was invited to guide students about Chartered Accountancy.
Mr. Fernandes gave a brief introduction to ICAI. ICAI gives international exposure to the students to expand their skills. The fee structure and Stipend were discussed in detail. CA Ryan briefed the students about the Talent Test and Scholarship Scheme.
PULSE SESSIONS 2021-22
1. LinkedIn Networking
August 29, 2021
No. of Attendees: 266
Mr. Manish Punjabi, General Manager, COE Learning and development at UltraTech Cement, conducted a session on LinkedIn Networking. Mr. Punjabi threw light on the importance of being on a professional networking platform and introduced them to a powerful platform like LinkedIn. He enunciated some valuable strategies through which students would be visible to the recruiters including liking, commenting, and sharing posts they find fascinating, writing creative content for LinkedIn, and using media to their benefit. He explained the importance of researching before an interview or before reaching out to the corporate.
2. Career in Consultancy
August 30, 2021
No. of Attendees: 290
Mr. Ashish Pherwani, Partner in Media and Entertainment Advisory Services at Ernst & Young, talked about the opportunities and scope of the Consultancy Industry. He explained that consultancy is solving problems, providing extra pair of hands and legs to the clients, future-gazing, and revenue enhancement. He also gave examples to support the statement. He discussed the different ways of revenue enhancement and stated various types of consultancy like finance consultancy, consumer consultancy, marketing consultancy, IT advisory consultancy, and many more, supported with examples of various companies in these industries. He also advised the students that they should start their career in industry and after a few years of experience go into consultancy.
3. How to Appear for a Group Discussion
August 30, 2021
Number of attendees: 318
Ms. Yogja Singh, Campus Relations Leader at KPMG guided the students on the importance of a group discussion, and how to appear for one. Ms. Singh explained the structure and format of a group discussion. She laid stress on being well informed with facts, as it is the key to excelling in a group discussion, and emphasized the importance of listening. In the end, she conducted an interactive session with the students and solved their doubts and queries.
4. How to draft a winning resume
August 31, 2021
No. of Attendees: 350
Dr. Navin Punjabi, Vice Principal & Director of Placements, H.R. College of Commerce & Economics; threw some light on the importance of resume writing in today's world. Dr. Punjabi discussed how a resume is a personal marketing tool and how it helps to get an interview. He explained the difference between resume scanning, resume reading, and discussed the difference between a resume and C.V. He also talked about the standard format of the resume and different types of resumes and strategies to present a crisp and concise resume. In the end, he held an interactive session where students had their queries addressed.
5. How to Ace an Interview
August 31, 2021
No. of Attendees: 300
Speaker: Mr. Priyank Ahuja, Product Manager at Accenture, explained the importance of one's attire in an interview as it is the first thing noticed by the interviewers. He said that the clothes convey a lot about one's personality so he/she must be dressed well in all the rounds of the interviews. He elaborated on behaviour during interviews. He mentioned some of the tasks to be performed before appearing for an interview like researching the company, going through their job requirements and job description carefully. He discussed some of the most common body language blunders that interviewees should avoid during an interview. He also helped the students with 10+ frequently asked interview questions.
TY Orientation
September 1, 2021
No. of Attendees: 320+
A session was conducted to explain the Final Placement Policy by Dr. Navin Punjabi, Director of Placement Cell, H.R. College. He gave an introduction about the Placement Cell and the connection with various companies. He elaborated on the working of the Placement Cell and welcomed student suggestions & ideas. Then the session was taken over by Niyomi Shah & Muskaan Sachdeva (Joint Chairpersons), Shruti Ghandikota & Saiba Omar (Vice-Chairpersons), and Harshvardhan Singh & Rishabh Soni (Advisors). They explained the Final Placement Policy to the students very simply.
PRE-PLACEMENT TALK - KPMG
September 7, 2021
No. of Attendees: 195
Speakers for the event from KPMG were Mr. Mahek Vikamsey (Partner-Valuations), Mr. Amish Dani (Director-Transaction Services, Financial Due Diligence), Mr. Prateek Bhatia (Vice President-Valuations), Mr. Kurush Dordi (Director-Human Resources) & Ms. Kruti Turakhia (Manager-Human Resources).
Mr. Kurush Dordi commenced the session by introducing KPMG and its policies. Mr. Mahek Vikamsey discussed KPMG's clients and the services they deal with. Mr. Jigar Seta gave a detailed explanation of how risk and business advisory are provided to customers by the company. The students were told about their career paths at KPMG.
PRE-PLACEMENT TALK BY ACIES
September 8, 2021
No. of Attendees: 30
Mr. Abhinava Bajpai, Managing Director, Acies, and Mr. Yash Ratanpal, Director, Acies gave a brief introduction about the company and its policies, giving an overview of the company and its operations. They revealed that the firm works in various areas, such as risk and finance, business solutions, strategy and structure, and so on. Students were informed about Acies' Career Progression and also about the company's interview process.
PRE-PLACEMENT TALK - ERNST AND YOUNG
September 16, 2021
No. of Attendees: 81
The session commenced with Mr. Sunmeet Chahal (Partner at EY) introducing the company and its policies. Mrs. Niyati Sood (Consulting Partner at EY), elaborated on the diverse working culture of the organisation and various campaigns held by the company. Anjali Verghese (Senior Manager at EY) elaborated on the job description & job requirements for the profile offered by the company.
TO ACE VIRTUAL INTERVIEWS PULSE SESSION
September 18, 2021
No. of Attendees: 240
Dr. Navin Punjabi introduced the speaker Mr. Jaimit Doshi, Chief Digital and Marketing Officer at Aditya Birla Sun Life Insurance who elaborated on how to attempt a virtual interview. He stated that the interviewee must be honest, respectful, and truthful with the interviewer.
PRE-PLACEMENT TALK - AXXELA
September 20, 2021
No. of Attendees: 165
Ms. Megha Gupta (Senior Human Resources Manager), Mr. Rajesh MK (Vice President - Training & Research) from Axxela gave a brief introduction about the company and its policies. Ms. Megha Gupta briefed the students about the company and highlighted the intense demands of the job and talked about the open-door culture of the company. She stressed how the company focuses on the mental health of its employees by conducting counseling sessions and employee engagement programs. Mr. Rajesh MK informed the students about the advantages of being an employee at Axxela.
PRE-PLACEMENT TALK - QUICKSELL
September 20, 2021
No. of Attendees: 100
Ms. Shloka Shetty (Business Development Manager) commenced the session by providing a brief introduction of Mr. Deepak Bhagchandani, the founder of QuickSell, as well as the company. The students were made aware of the company's mission. A short-pre-recorded clip was shown to the students to provide an understanding of the company's work methodology. Ms. Shloka also shared the many opportunities that the company offers and briefed the students about the total salary package and the interview procedure.
PRE-PLACEMENT TALK - TRESVISTA
September 24, 2021
Mr. Jaideep Nair, Vice President, TresVista began the session by showing a video that provided an overview of the company's work culture and atmosphere. The students were enlightened about the company's service delivery model, the client mix, the services offered, and lastly the summary of the services the employees will have to perform.
PRE-PLACEMENT TALK - ICICI LOMBARD
September 30, 2021 No. of Attendees: 80
Mr. Abhishake Mathur, Vice President – Technology, ICICI Lombard gave an introduction about the company and explained the workings of the company and the different services it offers to its clients. The students were shown a short film to provide them with an overview of the company's work style. He further explained the job description and CTC for the offered positions.
PRE-PLACEMENT TALK BY MORGAN STANLEY
October 7, 2021
No. of Attendees: 140
Mr. Siddhartha Shukla (Manager Campus Recruiting), Mr. Anurag Bharadwaj (Executive Director) of Morgan Stanley gave a brief introduction about the company and its policies. The students were briefed about the company's virtual analyst program and virtual intern program. Mr. Siddhartha explained to the students about the virtual campus recruitment process that will be followed and also about the platforms the students can connect with.
PRE-PLACEMENT TALK BY DELOITTE
October 28, 2021
Mr. Chirag Sinari (Campus Recruiter - Senior Analyst, Deloitte) and Mr. Balaji E.G. (Tax Senior Manager, Deloitte) gave a brief introduction about the company and its policies. The students were shown a short clip that gave them an idea of the company's culture. Mr. Chirag Sinari spoke of the company's hierarchy related to work and the many job profiles available.
EY SCHOLARSHIP LAUNCH PROGRAM 2021-22
November 25, 2021
Attendees: 45
A seminar was organized to help students know more about the EY Scholarship program with Megha Gupta (Associate Director of Cooperate Talent Team) and Rakhi Bhatia (Assisting Cooperate HR Team). They shared some of their great insights from their time with EY, as well as spoke to the students about the EY scholarship programme, eligibility, and selection criteria.
PRE-PLACEMENT TALK BY ERNST & YOUNG
December 2, 2021
The speakers Mr. Rohit Verma (Tax Partner) & Ms. Anusha K (Advanced Tax Analyst) gave a brief introduction about the company and its policies. Mr. Rohit briefed students about EY highlighting it as a well-known tax consultancy organisation. The participants were informed about the importance of digitization in the tax business. Ms. Anusha presented the work profile and job descriptions at EY.
PRE-PLACEMENT TALK BY ZOO MEDIA
December 10, 2021
Ms. Tanima Dhawan, HR Director briefed students about Zoo Media. Ms. Dhawan spoke about the organizational structure, hierarchy, culture, and its core beliefs. Ms. Dhawan highlighted Zoo Media's rapid career development and preferment plans.
PRE-PLACEMENT TALK BY PWC
December 13, 2021
Mr. Shreyas Petkar, Partner Risk Assurance, shared PwC's legacy of being one of the Fortune's Best Companies for the 16th Consecutive Year, providing tremendous opportunities on a global scale, and introducing courses such as Robotics and AI. Mr. Shreyas discussed contracts and compliance, financial services risk, and other relevant aspects of a career in PwC.
PRE-PLACEMENT TALK BY DEUTSCHE BANK
December 18, 2021
Mr. Rakesh Chawla, Director of Group Finance, commenced the symposium by providing a brief introduction to Deutsche Bank, and its various functions. He enlightened all the students about the social work the bank has been doing apart from its core business. Mr. Chawla talked about their ADP programme where they recruit directly from college.
PRE-PLACEMENT TALK BY NEWFOLD DIGITAL
December 20, 2021
Ms. Radhika Satwalekar, Associate Sales Manager, and Ms. Kavya Gupta, University Relations Officer- Human Resource gave an overview of the company and how it helps a business to go online along with developing products that are required for running business websites.
INVESTMENTS AND PERSONAL FINANCE FOR BEGINNERS SESSION
December 21, 2021
A session to help beginners learn in detail about investments and trading was conducted by the Department of Commerce in collaboration with the Placement Cell of H.R. College in association with Namita Invest India. Mrs. Namita Patel informed the students about the various modes of investing, the importance of balancing portfolios, and the role that risk appetite plays.
PRE-PLACEMENT TALK BY COLLIERS INTERNATIONAL
December 27, 2021
Mr. Arshish Kavarana – Senior Director (Head - Occupier Consulting & Digital Initiatives) commenced by discussing the impact of the pandemic on the corporate sector. The students were also informed about the company's prior CSR efforts, which helped the employees, engage with each other. To provide candidates with information about the selection process, an explanation of the recruitment process and compensation structure was provided.
PRE-PLACEMENT TALK BY JP MORGAN
January 4, 2022
Ms. Gurneet Mendhiratta (Executive Director), Ms. Ananya Sharma (Campus Recruiter), Mr. Sanil Chaudhari (Associate), Mr. Pratik Bhat (Associate), Ms. Tejashree Dautpure (Associate), Ms. Sia Karki (Analyst) enlightened the students about the working of the company. Ms. Tejashree and Mr. Sanil told the students about commercial banking and investment banking respectively. The meeting concluded with Ms. Ananya discussing the selection process and the criteria for the same.
PRE-PLACEMENT TALK BY SUTHERLAND
January 19, 2022
Ms. Darshana More, Campus Recruiter narrated how Sutherland is an experience-led digital transformation company and she shared the thirty-five-year-old history of the firm and how it has progressed in Artificial Intelligence and Machine Learning at a global level. Moreover, she told the candidates about the company's achievements and the markets they work in, banking, financial services, travel, technology, etc.
PRE-PLACEMENT TALK BY DELTAX
January 24, 2022
Nishchitha Uchil (Hiring Team), Khyati Sahoo (Talent Lead), and Rishi Gautam (Growth Specialist) enlightened the students about the working of the company. Mr. Rishi mentioned that the company is looking forward to resolving problems on daily basis and also reinstated that the organization will assist the students in building their profession and understanding the industry.
PRE-PLACEMENT TALK BY AROMATAN PRIVATE LTD.
January 29, 2022
Mr. Taha Nabee, the Co-Founder, commenced by introducing the company to the students. He went on to describe Aromatan Private Ltd. as a house of brands that focuses on building a global market for perfumery, originating in India. Mr.Taha talked about how the company aims to put India on the map of global perfumery, for which it seeks young talents.
PRE-PLACEMENT TALK BY GENPACT
January 31, 2022
Mr. Monesh Lodaya (Director) and Priyanka Pathak (Assistant Manager) gave a brief introduction about the company and its policies. In the course of the session, the students were familiarized with the various clients of the company and how Genpact acts as their trusted advisors or their problem-solving partners.
PRE-PLACEMENT TALK BY SCHBANG
February 11, 2022
Ms. Radhika Raheja (Development Manager) of Schbang began her talk by introducing the company and its primary objective of bringing various integrated marketing solutions under one roof. With 700+ members working for 6 years in 3 different cities, Schbang is referred to as the Top Startup and was ranked 15th on LinkedIn Top Startups 2021.
Ms. Radhika briefed the students about Digital and Business Transformation, Technology & Design, Digital Content Creation & SEO, Video Production & Photography, Consumer Centricity and Branding, Media Planning & Buying in Schbang. She stressed the profiles on offer such as Influencer Relationship Management & PR & Integrated Solutions Marketing. The seminar closed with a discussion of two case studies and a round of Q&A.
PRE-PLACEMENT TALK BY GRANT THORNTON
February 15, 2022
Ms. Sheetal Jerath Sharma (Human Resource Transformation Expert) began the meeting with a quick introduction of herself, followed by a synopsis of the meeting's agenda. Ms. Sheetal explained what GT Bharat is. Grant Thornton is India's largest professional services firm, with 4,500 workers spread over 15 offices in 13 cities. She discussed the organization's major business units, which include Assurance, Risk, Tax, and Growth (ARTG), and opportunities for employment in areas such as financial accounting, human resources, marketing, and so forth. The students learned about the organization's CSR, which focused on education, employee health and wellness, diversity and inclusion, and environmental stewardship. Ms. Sheetal then went through a few key firm policies that included womentorship, unlimited leave, a 10-day appreciation break over Christmas and New Year, and work from anywhere policy. The session ended with an interactive Q&A.
---
Placement Cell
Placement Activities 2020-2021
Some of the engagements of the Placement Cell activities include:
Summer Internship Season (April-June)
Articleship Season (July-August)
Winter Internship (October-November)
Articleship Season (January-March)
Final Placement Season (commences in September)
Ernst and Young Scholarship Program
Ernst and Young Certification course "CAFTA" – Certification in Applied Finance, Treasury and Analytics
Cargill Scholarship Program
Guest Lectures by corporates
HR Pulse Sessions: A Flagship Program of the Placement Cell grooming the students on life skills like Resume Writing, Interview Skills, Cracking the Group discussion and Networking for the future.
KPMG Pulse Session
HR Pulse Sessions
KPMG Ideation Challenge (KIC)
KPMG Campus Ambassador Programme
Webinars
The college strongly believes in exposing students to various sections of the society and encourages them to pursue at least one corporate internship as well as one NGO internship in the three years of their degree programme. The Corporates and the Students approach appreciate the Placement Cell, for its process driven approach.
The Placement Cell Team comprises of 30+ dedicated members diligently working under the guidance of Dr. Navin Mukesh Punjabi, Vice-Principal and Director of the Placement Cell. Together, they not only work towards providing that extra fuel to drive the career choices of the students but also assist them in choosing the perfect role that suits them the best at the corporate level through on-campus job opportunities.
"The ultimate aim of any degree should be application of knowledge to solve real life problems and the Placement Cell strives hard to make students realize their true potential, be it taking up a job or starting a new venture. We strongly believe in empowering students to decide what they want to do in their careers by giving them the right platform to explore, grow, and achieve what they want to do in life. We echo the vision of Placement Cell 'Linking campus to careers.' "We strongly orient our students to take up a job role, if they feel they will be able to do justice to it and spend reasonable time in that role, where they not only get to learn but also contribute to the organization they join and make a name for themselves," says Dr. Navin Mukesh Punjabi, Vice-Principal and Director Placements.
Corporate connect: placementcell@hrcollege.edu
Student Joint Chairpersons:
Niyomi Shah- 7021153324
Muskaan Sachdeva- 7390093111
To recruit from H.R. College, reach out to the Student Joint Chairpersons from Monday to Friday between 4:00 pm to 6:00 pm or mail us on placementcell@hrcollege.edu
Tel: 022-22042195 Ext.: 124
In case a student of the college has, any query please e-mail on: placementcellhrc@gmail.com
We appreciate and acknowledge the inquiries about assistance from other colleges. Nonetheless, the Placement Cell only caters to the students of H.R. College of Commerce and Economics.